Wake up to the sound of the waves on "Västra Stranden" in Halmstad and enjoy a delicious breakfast on your private terrace.
"Kottehusen" is located in the dunes of Halmstad Citys beach right in the middle of the reeds. We have five "Kottehus" available between April and September.
Each "Kottehus" has their own terrace, double bed, small fridge, electrical socket, glasses, electrical kettle, tea and coffee etc.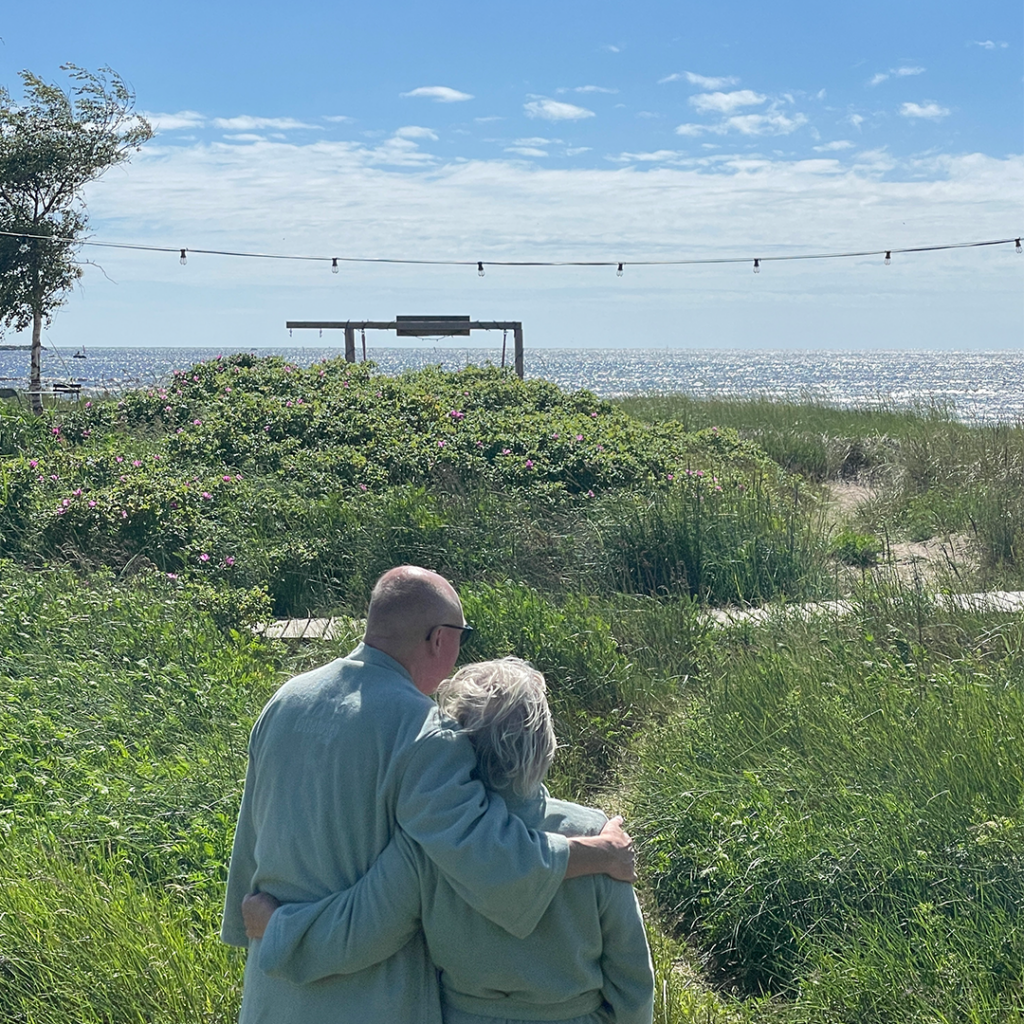 Start your day with a refreshing dip in the sea. During your stay, the loan of a bathrobe is included.
Watch the sunset over Västra Stranden with a hot cup of tea or maybe some sparkling in your glass.
Every morning, breakfast will be delivered to your terrace.
So sit back, relax and enjoy the beautiful view.
Discover our beautiful Halmstad City
If you enjoy a walk or a bike ride you don't want to miss out on Halmstads coastal hiking trail "Prins Bertils stig" reaching from the city all the way to the popular beach of Tylösand.
Play a game of Padel on our neighbor Söderpirens new outdoor court or rent a SUP and experience Halmstad from the river "Nissan".
"This Tiny House was a perfect sleeping place during our roadtrip. We loved the beach and out dog had a lovely time <3 Thank you for the delicious breakfast. We continue our roadtrip rested."
"We really enjoyed our stay here. It is very peaceful & beautiful. We came here on vacation to celebrate our 21st wedding anniversary. The scenery, the cabin & the food were all amazing! We really loved it here!"
"Vår vistelse i kottehusen har varit fantastisk. Här finns allt man behöver och lite till! Tack för att vi fått skapa fina minnen här i Kottehusen och hit vill vi definitivt komma tillbaka."
"Takk så mye for et nydelig opphold og service! Det er et så utrolig fint sted og vi kommer gjerne ingen en annen gang for å oppleve Kottehusen på Söders solnedgang!"
Söderpiren – Café, party venue, conference, SUP and hot tub in the dunes ​
Located just a few steps from "Kottehusen" you'll find our beautiful Söderpiren which is open every day and serves light lunches, coffee, tea, ice cream and other hot and cold beverages. (A perfect place for a Swedish fika). Söderpiren is available to be rented as a party venue, book a hot tub or SUPs. Visit www.soderpiren.se  www.soderpiren.se 
As a guest of Kottehusen you'll have a 10% discount in the café.
Lillebror - Good vibes, delicious food and drinks while the sun slowly sets over the ocean.
During the summer, when the weather allows, our neighbor Lillebror serves delicious food and drinks in a lovely atmosphere right by the beach. The hour of service varies but usually 12 pm to late every day of the week.
As a guest of Kottehusen you'll have a 10% discount on all foods served at Lillebror.
Subscribe to our newsletter
Stay updated on the release of bookings for the "Kottehus", offers and other fun events.